CIS offers classes at various levels for students from the age of 3 years old. Our children and kids' lessons are stimulating, and entertaining! The children always have fun while learning.
Children and kids are encouraged to experiment with the language through a wide range of engaging activities and start speaking Italian in a very natural way. Enjoyment is the key to learning!
---
Spring Holiday Camp
Tuesday, 27th of September 2022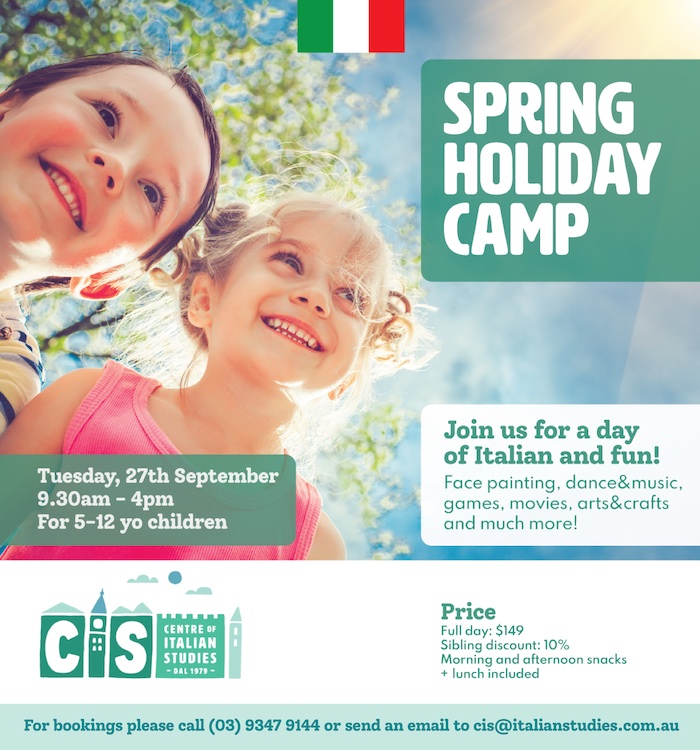 Cooking Class for children
Thursday, 29th of September 2022

Pricing
Online Children & Kids courses – 10 weeks - FROM
AUD $299.00
---
Term dates
2022 term 4
10 October - 17 December
Sibling offer
Early bird ends on September, 8 - 15% off for siblings
Our lively and creative program helps children feel the excitement of learning Italian and gives them an insight into Italian culture.
The classes are conducted almost entirely in Italian to guarantee a full immersion. However, every care is taken to meet the specific needs and abilities of each child.
Our teachers are all fully qualified native Italians and fully qualified. They are skilled at creating classroom materials and lesson planning, so progress is maintained through the years.
We make sure all teachers are screened through a face-to-face interview and they are all working with children checked.
We strongly advise you to take advantage of our early years of teaching so your children can grow up fluent and at ease with a second language. Help them discover the joy of the Italian language and culture.
For any enquiry please write at cis@italianstudies.com.au
Each age is different, so we have a range of classes for every little student from 3 to 15 years old.
Esploratori

3–5 years

As children become more independent, they interact with teachers and classmates. This class is filled with fun activities, games, songs and dances that come with storytelling and exploration. We encourage all forms of play and sociability to build vocabulary, numeracy and speaking basic Italian sentences.

Storytelling on-screen in three-to-five-minute bursts helps develop language-cognitive and communication skills, to build and enrich their vocabulary and to stimulate their thinking.

Duration: 1 hour

View timetable and enrol
Costruttori

6–7 years

Costruttori is for children familiar with Italian at home as well as students who have already done more than two years with CIS.

They are expected to recognise and identify common objects in Italian and be ready to express ideas and make their needs known with simple conversations.

We encourage independence and creative thinking as they gain an understanding of the world around them and develop social relationships.

Importance is given to play-based learning with arts and craft activities, painting, music, dance, games, cooperative play, easy projects, missions and storytelling.

The challenge is to change perceptions, so we are not seen to be forcing learning, but encouraging children to see the world through different eyes.

In essence, a child has to forget he or she is learning Italian before they can learn Italian easily and naturally.

Duration: 1 hour

Resource: Provided by the teachers.

View timetable and enrol
I Ragazzi

8–11 years

These classes are built around activities aimed at stimulating the natural liveness and curiosity of children.

They develop confidence and become more acquainted with using Italian to communicate through dramatic play, technology and games.

Students practice Italian grammar, writing, and reading in Italian and are always encouraged to use Italian during the lesson. Italian language learning starts to build connections with other subjects such as science, geography, music and arts.

Each week, students will be set a different language challenge that can be fun for the whole family.

Resource: Avanti Tutta! by Lingopont

View timetable and enrol
Gli Adolescenti

12–15 years

This class is divided into different levels depending on the amount of Italian previously studied.

Students will build on the knowledge of the language and practice the four skills in language learning: speaking, listening, reading and writing.

The children are involved in developing topics that interest them as they gain insights into grammar and develop conversational skills.

Audio, interactive video and cultural readings enhance the learning experience.

The course is conducted in Italian with minimal use of English. Full immersion is the best way to master language.

Beginner level: English is allowed for the first three classes only.

Intermediate level: Classes are conducted in Italian with minimal use of English.

Advanced level: Classes are conducted entirely in Italian.

Resource: The new textbook Avanti Tutta! by Lingopont

View timetable and enrol