VCE courses
Year 11 and 12 support classes.
The Year 11 and 12 support classes are designed to help students prepare for their VCE Italian exam. The extra practise will supplement their regular classes at school.
Term 4 - 2022 starts on October, 10 and ends on December, 17
Language skills.
Work on all your language skills (listening, reading, writing and speaking) through plenty of practice activities on a variety of topics.
Grammar o'clock.
Revise and practise tricky grammar points and get all the answers to your grammar questions. Students can ask for a particular topic to be covered and/or revised in class at any point during the course.
Feed back.
Students will get personalised feedback on their work and advice on how to achieve excellent results. Our experienced teachers will offer you support throughout the course.
Practice makes perfect.
Practise on past exam papers and mock exams, especially in the second half of the year. This practice will be conducted in exam conditions and you will receive feedback on your work.
Pricing
Standard VCE course - 10 weeks
AUD $299.00
---
Term dates
2022 term 4
10 October - 17 December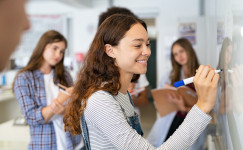 We offer two class levels.
Standard classes run during the school terms. The course is 10 weeks long and students will attend one 60-minute class per week on Saturday morning.
Intensive classes run during the school holidays. The course is one week long, and students will attend a three-hour class every afternoon, from Monday to Friday. NOT AVAILABLE IN SPRING
Which class is right for me?
Students will learn different things depending on the term they attend.
Here is a useful summary to help you decide when to join us.
What will I learn and in which term?
Term 1 and 2, Summer and Autumn intensive
You cover many different grammar topics and are given plenty of opportunities to start working on your language skills with listening, reading, writing and speaking practises. NOT AVAILABLE IN AUTUMN
Term 3, winter intensive NOT AVAILABLE IN WINTER
You focus on practise exams, receive feedback on your work, and practise for the oral component of your exam.
Term 4
You will do one practise exam per week and receive feedback on your work.
When should I start?
Most Year 12 students decide to join our classes at the start of the year and keep studying with us until they take the exam. Sometimes they also attend one or more intensive classes.
Many students join us at the beginning of Year 11 and work with us for the entire duration of their VCE program. If the class is a mix of Year 11 and Year 12, the younger students will work on different activities especially designed for their level.
Not sure of your level? If you know any Italian at all, we advise you to take a test so you can get a quick idea of whether you are a beginner, intermediate or advanced.
If you're still not sure, you can contact us to discuss your experience and expectations further. We can advise on classes, online and offline resources, or even private lessons.